Every parent asks around what kind of haircut would be best for boys. Most of the time, it's the school look that they are concerned about.
What are the best haircuts for boys?
"What's a good style that's appropriate for school?" is the most commonly asked question. Parents want a clean-cut appearance for school. Kids may choose any haircut they fancy, but parents must decide if it'll be appropriate for a school that matches their dress codes.
Parents can choose to modify most of these school haircuts to fit both formal and informal events such as family gatherings, visit the church, or holidays. If your kid attends a more lenient school, then you're free to experiment with different styles.
We've put a list of some of the most popular hairstyles that are ideal for boys in school. These hairstyles fit boys of any age and level, be it elementary school, junior high, or high school.
Top 12 best haircut for boys
1. Crew Cut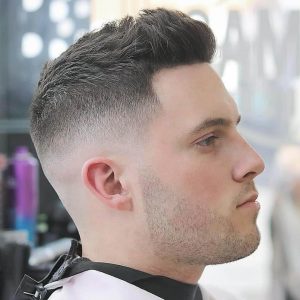 The crew cut is probably the most popular hairstyle for both males and females. Many young girls in Sports choose to keep crew cut to avoid any hassle or regular maintenance.
It is also useful because the crew cut is easy to carry for kids who don't have time to style their hair. The short hair length requires zero maintenance and styling. Although it's limited when it comes to styling, the crew cut is one of the most preferred hairstyles by most schools and sporting clubs.
What you must be careful about are your kid's face size and shape, and if the extremely short hair will suit them? The crew cut works best with around half an inch to 2 inches of hair. You and your kid can decide the length. You can ask the barber to fade the sides and back with clippers to keep that thick hairy mass at the top while the sides and back are empty.
2. Side Part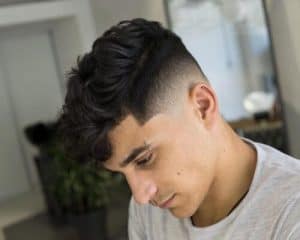 If you have a longer hair than a crew cut, then 8 out of 10 times it's the Side-Part. The side part is one of the most popular and timeless haircuts that have ever existed. It stands out for its clean, professional, and formal style that looks great on any face shape or size.
The side part works best for both formal and informal events. Your kids can carry it to school, sporting events, or parties. Many schools prefer side part if the kid has long hair because it keeps their face tidy, wide, and clean. You can ask the barber to style your kid's hair with a side part. While you keep the middle hair from two to four inches in length, you can clip the sides and back to keep them short and tidy. Side part with clipped-sides is hip in today's fashion.
3. Undercut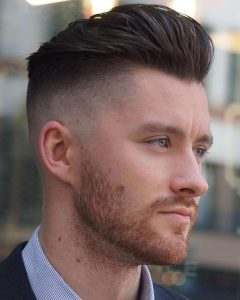 The undercut styling may give you the feel of the 60s and 70s when the popular young actor James Dean was around making films. It's trendy, short, and stylish. It works well in almost all school environments, along with informal events.  Like the side part, you can style this one however you like. It's a flexible style that makes for an excellent school haircut.
You'll need a good pomade to style the undercut but be careful about using solutions or styling gel on your kid's hair.
Although it looks short, the undercut has a thick mass of hair with 2 to 4 inches on top. The sides are generally clipped or buzzed with a#1 to #4 setting.
4. Taper Fade
Taper Fade is a super short hairstyle without being super-short! It gives a spikey look which is adored by almost every kid. It may suit both formal and informal events. Overall, it's a neat, clean style, which makes it an ideal school haircut.
It doesn't require much styling as the short hair stays in place at all times. If you're pressed for time, this is your haircut. It's a great, low maintenance school hairstyle.
Taper Fade has two to four inches of hair on top with faded or clipped sides and back. You can ask the barber to taper down the sides and back. To make it looks sharper, you can avoid using a trimmer and use a straight razor to eliminate all of the hair below the end of the taper.
5. Quiff with Tapered Undercut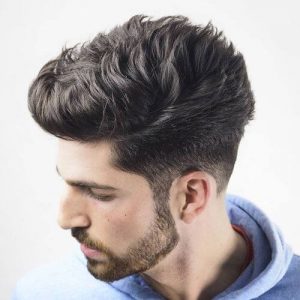 The quiff at the front adds to the overall styling. It's a popular boys' haircut that can never go wrong. You can take it a step further by turning it into an undercut, which gives it an extra style and smoothness. Before getting a haircut, you'll need to have longer hair, so your barber has some length to work with. You can ask for a high skin fade on the sides cut with clippers, which make it hip and contemporary.
6. Fury Slick Back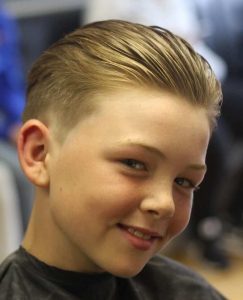 Fury Slick Back is the signature hairstyle of Brad Pitt's legendary character of "Wardaddy" from the movie "Fury." This style became famous after Brad Pitt carried with it confidence in the movie. The slick back style and high skin fade on the sides may not be the ideal school haircut; hence you must be wary before giving this makeover to your kid.
7. Angular Fringe with Disconnected Fade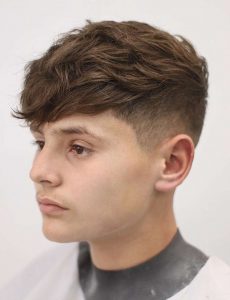 The angular fringe haircut is in style for a while. This hairstyle boasts the unique styling where the sides are kept somewhat short, and the top is left relatively long. Your kid is sure to love this hairstyle but be wary about the school policy. They might not like the disconnected fade on the side, which can look a bit informal.
8. Classy Crop with Short Bangs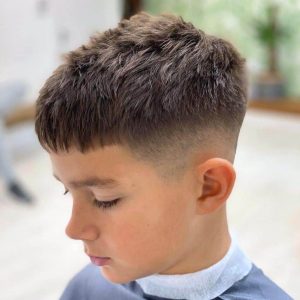 A classy crop with short bangs is a hip style that looks both formal and informal. If your kid has a natural; curl, then you can opt for this look. A simple crop cut can add the extra texture to the hair. If your kid doesn't have natural curls, then you should avoid styling with rollers. It's a complete No-No!
9. Brushed Up Side Quiff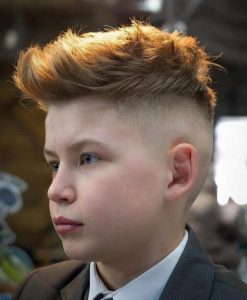 Brushed up side quaff looks suave and goes well with both formal and informal events. Many schools accept these kinds of styling for kids but beware about keeping the hair long. 2-3 inches at most is good enough for this styling. Longer than that, it might look too bold for a school-going kid.
10. Tapered Fohawk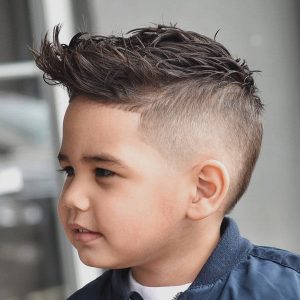 Fohawk is similar to Mohawk, where the hair looks sharp and raised from back to front with skinned sides. Fohawk is more appropriate for school going kids as it gives a modern look to the hair without being too eye-raising. It has been around since the 80s. Your kid is definitely going to love it.
11. Textured Angular Fringe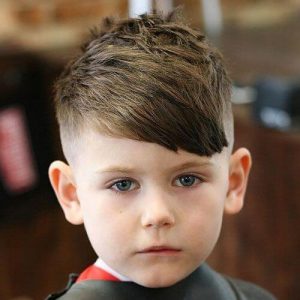 Textured angular fringe is an old-school hairstyle with angular fringe on the top. The sides can be kept tapered or clipped. It goes well with kids with natural bangs and suits both formal and informal events.
12. Ivy League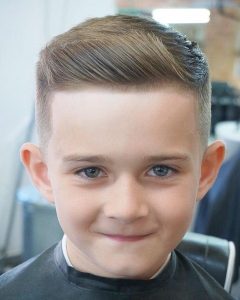 The Ivy League is another old-school hairstyle that has been common in many high school pictures. The good old' Ivy League is the perfect boys' haircut that goes well for all kinds of events. Schools love this hairstyle, and it remains a popular hairstyle for many schools going kids in the movies.
13. Side Quiff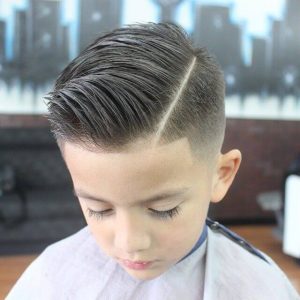 Last but not least, side quiff is the best hairstyle for most kinds. It works well with most kids. The sides are kept short while the top includes a quaff measuring 2-3 inches at most. It goes well with many school's policies.