Girls tend to be choosier when it comes to hairstyling. Thanks to popular media; music videos and movies, girls at young age desire to have a lush and full hair with unique styling. You must be wary about choosing the right hairstyle for your girl. The schools only allow minimal-hairstyling for young girls. To make the matter easier, you can let your girl choose the right kind of hairstyling that would both abide by school rules and make her happy.
"What's a good style that's appropriate for school going kid?" is the most appropriate question that you should ask. Unlike male kids, parents can't go with any random hairstyle for girls. It has to be appropriate for her age, gender, and school.
Also checkout the best haircut for boys.
Parents can choose to play around with most of these school haircuts to fit both formal and informal events such as family gatherings, visit the church, or holidays. If your kid attends a more lenient school, then you're free to experiment with different styles.
Top 15 Haircut for girls
1. Pixie Haircut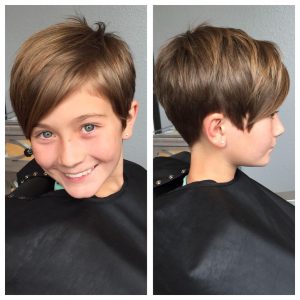 The pixie haircut is a cute hairstyle that suits both male and female children. It is more appropriate for toddler girls when she has straight hair that drops down a lot. The hair is kept short at the back and the sides but is left grown long on the top. It's very much manageable and requires less maintenance. Consider combing the hair every day.
2. Long Tapering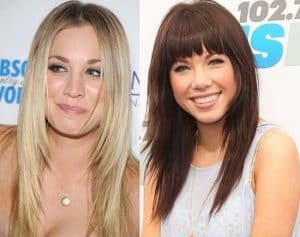 Long tapering is probably the most common female hairstyles. The long hair is kept as it is without any styling. It can be the haircut of choice for many girls. It works with both straight and wavy hair. Keep trimming the end on a regular basis to avoid split-ends.
3. Forehead Bangs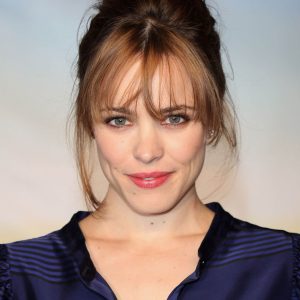 Forehead bangs are one of the classic hairstyles for girls. It works great for young girls with thin hair. You keep the front short while sides and back are kept long. You can also try bob cut with forehead bangs.
4. Parted Side Bangs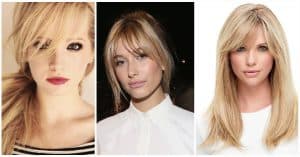 Parted side bangs styling is more of a toddler's look. It's quite similar to forehead bangs but it works if the girl has thin straight hair.
5. Classic Bob Cut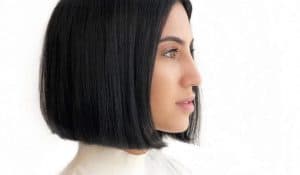 Classic bob cut is quite popular among many female characters in the movies. Your daughter is very likely to enjoy this hairdo if she has long, straight hair. The sides and back are kept long while the forehead is kept short. The classic Bob cut is similar to forehead bangs but the styling keeps the hair straight and waivered.
6. Asymmetrical Bob Cut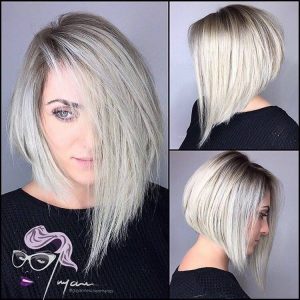 The asymmetrical bob cut gives the chic look to the hair. It's similar to regular/classic bob cut, except that hair fringes on one side of the face are longer than the other. Your kid's school is less likely to have any problem with this hairstyling.
7. Medium Length Cut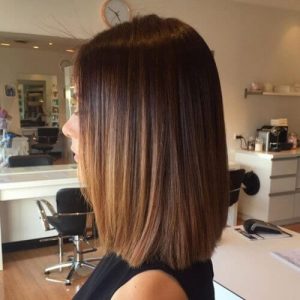 The medium-length cut hairstyling works with any age. It is one of the most preferred kindergartens looks for toddler girls. The long hair is cut to a more manageable length which makes it easy to maintain.
8. Cropped Hair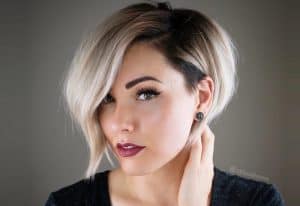 Cropped hair is appropriate for toddlers, so be wary about giving this look to your girl who goes to the elementary school. It is convenient to wash, dry, and maintain. The hair is less likely to disturb them when they are busy with their chores such as drawing, coloring, eating, or playing with toys.
9. Boy-Cut Haircut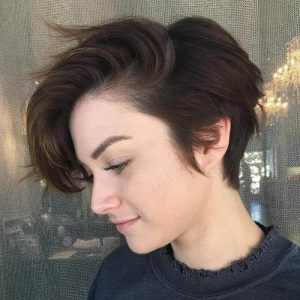 As the name suggests, the Boy-cut haircut is similar to that of boys. The hair is kept short on all sides. You can choose to style it by keeping the center and front longer than the sides which are generally cropped.
10. Side-Parting with Bow and Hairband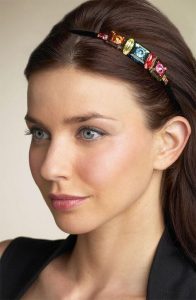 If you're out of time, you can go with side-parting with bow and hairband. The hair is parted sideways on both sides and is tied with a bow-shaped rubber band that helps secure the thin long tresses. Your daughter is sure to love it.
11. Loose Braid with Clips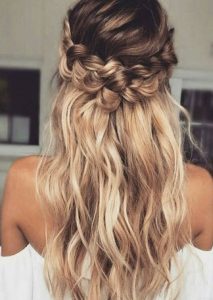 Braids are easy to create if you have had experience doing it for your sisters. You can do loose braids and keep well at their place with the use of clips and rubber bands. It requires less time to style. You can also choose to create designs with her braids but it's sure to take a lot of time. For this style, three thing braids are formed starting at the hairline and joining together for a mid-height ponytail to the side.
12. Dutch Braids into Voluminous Buns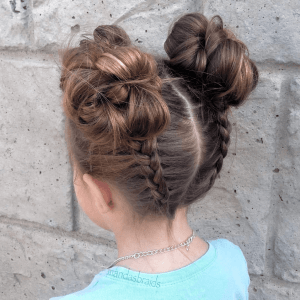 As the name suggests, Dutch braids come from a beautiful town in the Netherlands. You can start with creating braids and then create a bun to give it lush and thick braided hairdos. Starting from the nape of the neck, Dutch braid each section, working up her head. Twist the ends of the braids into buns. It's a good look to go with both formal and informal events.
13. Multi-Strand French and Bun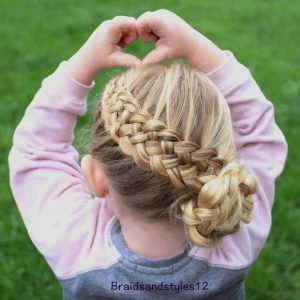 Braids are always versatile. You can create multiple hairstyles with it. Create a multi-strand braid running diagonally along with your girl's head and then finish it with a loosely wrapped braided bun. Voila! Your multi-strand French and bun are ready!
14. Heart Braids and Ponytail
Although it's harder to make, you can go with French heart braids for special occasions. Your little kid hairstyle is sure to catch the eyes of the onlookers. In this styling, French braids are done in the shape of a heart.
15. Decorated Four-Strand Braid Flower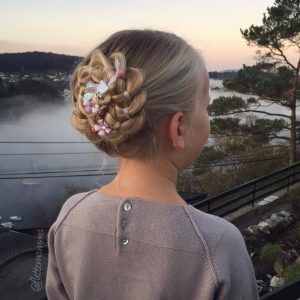 You can start with creating a four-strand braid; once it's done you can make a gorgeous updo. Swirl the braid into a flower shape, loosening it up as you coil it around. You can adorn the style with flower clips on the top.
15. Pigtail & Ponytail Options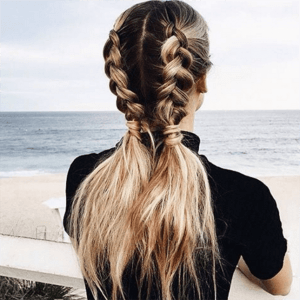 Girls love pigtail, especially when they are going to school. It's a nice way for them to introduce themselves to their friends.
16. Basic Pigtails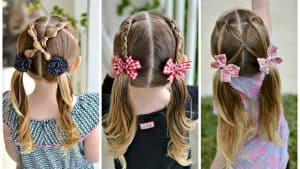 Basic pigtail is an easy-to-do hairstyle that requires less styling. You can quickly comb it and start plaiting it on either side or just one side at the back. The plaited lock is easy to create if you have experience making pigtails. It also helps to keep hair in one place.
17. Single Fountain Pigtail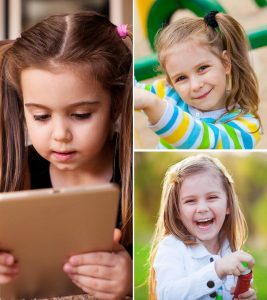 Single fountain pigtail works for girls of any age with short or curly hair. This style is easy and quick to create.
18. Side Single Ponytail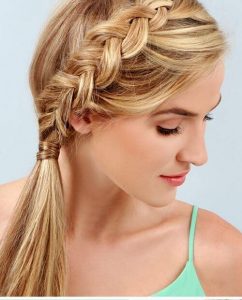 In this styling, the ponytail is created on one side of the head with droopy hair. Here, all the hair stays secured on one side of the head. It looks both cute and manageable.
19. Mid-Parting with Two Ponytails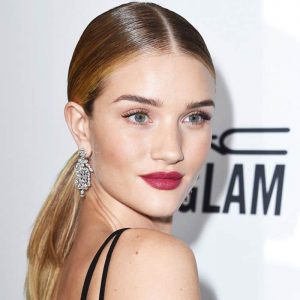 Mid-parting with two ponytails is very common hairstyling for young girls. You create mid-parting and start making ponytail on both sides. You can tie the end with a rubber or ribbons.