Who doesn't love Animated Movies? When we were kids, we loved watching animated movies and series. Mickey Mouse and Donald Duck, and Hannah & Barbara's Tom & Jerry are two of the most-watched animated shorts in the last 60 years.
With the launch of Cartoon Network in 1992, almost every child spent their holiday watching cartoons. It became so popular chore that many parents had to restrict their kids from watching TV.
Animated movies aren't only entertainment. They can be a great source of knowledge for education, arts, and creativity. They can also be a great way to tighten parents and child bond. Enjoying quality time watching a fun animated movie with kids is the time well-spent.
Here are ten of the best-animated movies we believe every kid should watch.
List Top 10 Best Animated Movies For Kids
10. Coco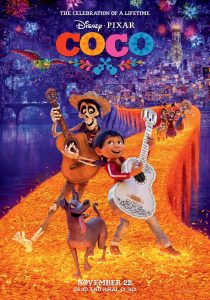 Coco came out in 2017. The beautiful animated movie based in Mexico is largely inspired by "Day of the Dead." It follows the story of a young Miguel who wishes to become a musician but is strictly forbidden by his many relatives.
Whenever he strums his guitar he becomes invisible to everyone but the deads. Kids can have a great time exploring the adventures of young Miguel who is magically transported to the Land of the Dead. They can also find out more about the Mexican fiesta. be prepared to go through the roller-coaster ride and cry a lot!
It was based on the original idea by Lee Unkrich. He first pitched the idea for the film in 2010. This is what he'd say about the movie in an interview,
"I'd seen it portrayed in folk art. It was something about the juxtaposition of skeletons with bright, festive colors that captured my imagination. It has led me down a winding path of discovery."
Directed by Lee Unkrich, Produced by Darla K. Anderson
9. The Little Mermaid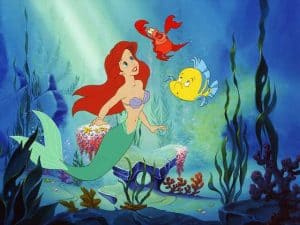 The Little Mermaid came out in 1989 and swept the audience by their feet. It is probably one of the highest-ranked animated movies along with The Lion King and Frozen.
It's based on the 1837 Danish fairy tale of the same name by Hans Christian Andersen. The movie tells the story of a young and mischievous mermaid princess "Ariel" who falls in love with a human. The adventures of the little Mermaid transform her from a mermaid to a human, thanks to some magic deal with an evil sea witch.
The kids are sure to love the emotional, comedy, and adventurous ride throughout the movie. And, we're sure they would hum the beautiful solo of Mermaid "Part of Your World" after watching the movie.
Directed by Ron Clements and John Musker, Produced by John Musker and Howard Ashman
8. Happy Feet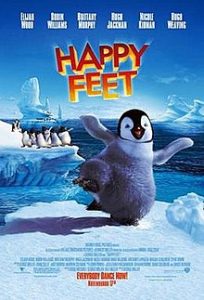 Happy Feet follows the story of a young Royal Penguin, Mumble, who can tap dance when the rest of the Penguins woo their mates with their melodic voice.
The animated musical comedy came out in 2006. It became an instant hit. Many children could relate to the character of Mumble who is always ridiculed by the elders because of his unusual talent. He travels half the world and experiences different sorts of adventures. The emotional journey of Mumble ends at his colony when he's finally accepted by all the other Penguins. They recognize and admire his unusual talent.
Directed by George Miller, Produced by Bill Miller, George Miller, and Doug Mitchell
7. Frozen Series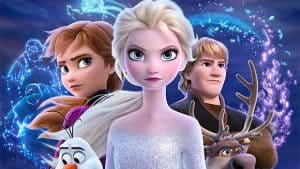 Frozen is one of the most popular and successful ventures of Walt Disney Animation Studios. It came out in 2013! Who doesn't remember the popular anthem from the movie "Let it Go! Let it Go!"
The story of two siblings and their snow-filled adventures is sure to make many kids cry with joy. Your kid is likely to relate to the story of a fearless princess who sets off on an adventurous journey. She alongside an Iceman, a loyal reindeer, and a naive snowman try to find her estranged sister, Elsa.
With $1.280 billion in worldwide box office collection, it became the highest-grossing animated movie ever. Kids all around the world loved the movie. Many kids own merchandise, bags, and toys depicting the characters of "Frozen."
We suggest parents watch this movie with their kids, so they can hug each other and cry with joy when Anna finally meets Elsa.
Directed by Chris Buck and Jennifer Lee, Produced by Peter Del Vecho
6. Bambi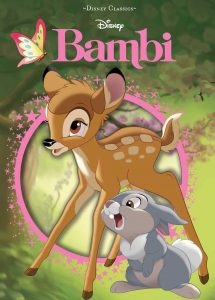 Bambi which came out exactly 78 years ago tells the story of a young mule deer fawn who is chosen to become the next prince of the forest like his father. His journey from infancy to adulthood makes him learn about friendship, love, family, and care. The kids might cry when they see little Bambi's mother is brutally killed by a hunter but soon they'll rejoice when he meets his father and saves animals from the forest fire at the end.
The popular movie was added to the list of "10 Top !0" -the best ten films in each of ten classic American film genres by the American Film Institute in 2008.
5. Zootopia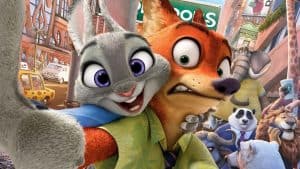 Zootopia is a fun-filled and light-hearted animated movie about a bunny rabbit, Judy Hopps. Judy Hopps is the first bunny rabbit to become a police officer in the city of Zootopia where all kinds of animals reside. She's embroiled in an adventure when she lands up a mysterious case. She and her notorious fox partner Nick Wilde manage to unravel the mysterious crime.
Some of the characters took inspiration from real-life animals such as a sloth who works at the city's Department of Motor Vehicles. Their slow pace is sure to crack up your kids. It became one of the biggest hits of 2016 and won many accolades.
Directed by Byron Howard and Rich Moore, Produced by Clark Spencer
4. Shrek Series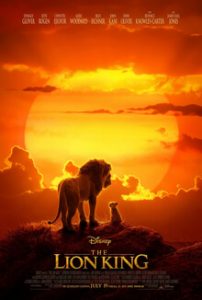 Shrek is the fairy tale story about an Ogre called Shrek who is a loner. He embarks on an adventure of his life to rescue Princess Fiona a human. He soon falls in love with her. In the end, Princess Fiona sacrifices her human form to become one of the ogres like Shrek. They marry in a fairytale style.
The punch lines made by Shrek and his donkey friend played by Eddie Murphy are sure to make you laugh. The entire Shrek series follows different adventures faced by Shrek and Princess Fiona.
Directed by Andrew Adamson and Vicky Jenson, Produced by Aron Warner, John H. Williams, and Jeffrey Katzenberg
3. Toy Story Series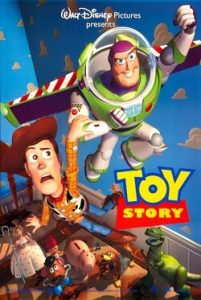 Did You Know? Toy Story is the only movie with 100% fresh Tomato reviews in Rotten Tomatoes.
Yes, Toy Story is one of the highest-earning and most popular animates series. The unique story follows the life events of a toy Woody (voiced by Tom Hanks) and his buddy Buzz Lightyear. This buddy comedy talks about friendship, love, care. It's sure to make children understand the emotions of their toys which are often thrown away when they get old. The fun story of Woody is sure to make your kid love their toys.
Directed by John Lasseter, Produced by Bonnie Arnold and Ralph Guggenheim
2. Up
The first fifteen minutes of UP is sure to make you and your kids cry your hearts out. Ranked as one of the most emotional scenes, Up begins with the brief montage of Carl and Ellie growing up. They marry each other and dream of visiting their dream destination Paradise Falls when Ellie suddenly falls sick and passes away. Carl, a lonely old-man, embarks on an adventurous journey to paradise Falls with his new, young friend Russell.
The beautiful moments about love, friendship, and permanency is sure to make your kids cry with joy.
Directed by Pete Docter, produced by Jonas Rivera
1. Lion King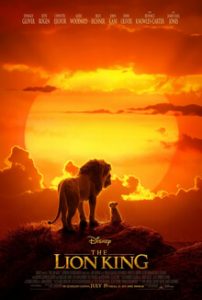 The Lion King is probably the most popular animated movies of all time. The Oscar-winning animated movie tells the story of young Simba, a lion cub and a prince of the jungle, who is to succeed his father, Mufasa. But the events turn sour when his uncle Scar murders Mufasa for the throne. Simba embarks on a life-changing journey where he meets his new friends Timon and Pumbaa who teach him about life. Simba faces off with Scar at the end and brings happiness back to his land.
When this movie came out in 1994, almost everyone rushed to the theater. The enthusiastic moviegoers rented out almost all the VHS tapes when it first came out. This movie is sure to make your kid hum the famous song "Hakuna-Matata"